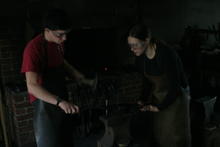 The story starts a few months ago. Over the summer, Helen and I went to Heritage Day, a festival in Easton celebrating the anniversary of the reading of the Declaration of Independence. To celebrate the historic event, Easton invited local historic artisans - weavers, gunsmiths, leatherworkers, and a blacksmith. We watched the blacksmith for a while and eventually struck up a conversation. It turned out that he offered lessons.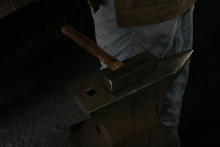 Last weekend, Haley, Helen and I went blacksmithing!
Lessons were offered through the Bethlehem Historic Society, and were provided in a recently rebuilt smithy. The rebuilt facility was based upon blueprints for a smithy on the site, dating back to 1750.